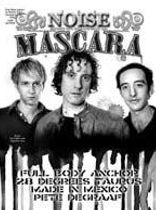 MASCARA
by Rick Dumont
Chris Mascara is a real man of genius when it comes to the arts. He's a student of the psychology of music, a writer of deeply introspective themed rhythmic tapestries, an amazingly talented actor and, oh yeah, he's also a very accomplished musician and singer.
It is that music, complied into a new album, Fountain of Tears, that will be released in January with a celebratory show at the Middle East upstairs on the 29th.
"It's a nice combination of my back catalog and new," Mascara said during a recent interview.
"But there's no way to spot what's old or new," chimed in bassist Bo Barringer, who is also known throughout the scene for his creative mastery with the Me & Joan Collins band.
For the last three years the two, along with drummer Matt Graber, who also smashes the hi-hat as a Self-Employed Assassin in Sarah Rabdau's talented backing gang, make up Mascara, are a power trio that immerses themselves into the very core of the human psyche while softening and tearing open the mind to enlighten and usher a whole new realm of thoughts into their listeners.
Fountain, it should be noted, got its title thanks to Federico Garcia Lorca, a Spanish poet and playwright of provocative and risky poems and plays, and also closeted homosexual who was executed in 1936 in a place called Ainadamar, an Arabic word meaning fountain of tears. Ainadamar is also a song on the album.
"I'm deeply moved by iconoclastic, trailblazing tragic artists from the past," Mascara said. The entire album is a series of vignettes and homages to many artists whose lives were tragically cut short and other stories that simply tell tales of disturbed humans. Like the tragic life of singer Jackie Wilson, known by many as "Mr. Excitement." The song "B261" is so named for the number on the grave marker that was once Wilson's only symbol noting where he was laid to rest after his death in 1984. Wilson had lingered in a coma for nine years after suffering a heart attack on stage performing in 1975. He died a relative pauper, thus the grave marker, but Mascara said in the years following his death a proper headstone was erected by fans and music people. Wilson was a pioneer and would call himself the "black Elvis Presley," while Presley would refer to himself as the "white Jackie Wilson," Mascara said.
In order to bring the messages and stories to life, Mascara needed some musicians to help. Three years ago he found them. They had been friends for nearly a decade having played together and shared stages along the way, including a stint where both Graber and Mascara sat in with Barringer's Joan Collins band for a bit a few years back. But it was ostensibly Graber's return from a two-year life excursion in Tel Aviv that brought him into the fold and completed the triangle.
"I am blessed to have both these guys playing with me," Mascara said. "They're my editorial board."
Mascara writes his songs like others might keep a journal. They are expressions of his feelings, experiences and analysis of what it is to be human, a "daydream journal" if you will.
He brings the material to the guys and they "gang banged it," arranged it into what ultimately wound up on the album. "There's a great synergy between the three of us that is just beautiful," Mascara said.
"We've definitely got a good thing going," Graber said when it comes to playing off each other in the creation of the music.
Part sensitive deeply philosophical romantic, part bluesman, part punk rocker and part madman, Mascara's writings depict an insight that comes out unlike many of his contemporaries like is heard on the album's opener "Dragonflies." In it Mascara pays homage to one of his dear friends, Mary Anne.
"I have tender feelings for this person," Mascara said. "And I wanted to delve into a deeper plan" to fully explore and express those feelings for her.
Combined with that sensitivity is the backdrop of sound that is far larger, thicker, and more articulate than what might seem possible from a three-piece band.
Also on the album is a song that evolved from Mascara's very deep and personal struggle with bipolarism several years ago. "Listerine" is a metaphor for what substances many who share in that battle use to try and take the edge off the madness that roils within the mind.
In the song he faces his scars, his demons peering deep into the abyss and exposing himself and the experience for all to sense. Anyone who has ever dealt with the illness will certainly hear the pain and anguish within the heartfelt confession.
Musically, the band added touches of dissonance to "create additional tension," Mascara said. "It's the appropriate backdrop."
Mascara nearly lost it all when preparing for a role onstage as Christ in the Tuft's University production of Jesus Christ Superstar in the mid '90s. He described basically torturing himself by not eating or sleeping, among other things until he wound up at McLean Hospital for a month, which also happened to be the place where another of his heroes, Sylvia Plath received treatment.
"I really wanted to become Jesus Christ," Mascara said. Instead of being able to perform the role, Mascara's breakdown forced him to miss out, but he did face the demon and began treatment. But he the opportunity to "be" Christ resurrected itself in 2000 when Boston Rock Opera's traditional Christ, Gary Cherone, decided he wanted to play Judas instead.
"An amazing dream realized," Mascara said of the fortuitous occurrence.
Though he doesn't want to be thought of as someone who suffers, that was so 15 years ago, Mascara doesn't shy away from pouring out his feelings in song or on stage forcing the listener to feel and understand the mind.
"If you confuse people's expectation it will trigger more synapses to pop in a listener's head," Mascara said.
Another of the songs, "High School" is based upon Mascara's perceptions of his real father's life growing up in Brooklyn. Mascara was adopted and wrote a song that is as powerful and dark as life on the streets of the Big Apple can be in reality, yet used a minimalist mindset and still paint a vivid word picture.
The song is short, or at least was until Barringer got hold of it. "He wanted to add a "Day in the Life" style of ending," Mascara said. So what was once a two minute blast of the mind expanded and morphed into a seven minute gurgling primal scream for understanding, thanks to Barringer's idea for a near never ending cacophony of reverb and Tesla-like static extending out into the blackness of space.
But unlike the Beatles' coda to "Day in the Life," the guys urged Mascara to free form over the manic sound. For effect, Mascara said he chugged a quart of milk to get that "guttural thing going on" and went off, improving a series of poetic and maddening bursts of mental anguish that the Effervescing Elephant Syd Barrett would have enjoyed. "Once we got started tracking it, it turned into molten lava," Mascara said.
Creatively the guys are just getting started to truly tap the resources of Mascara's mind and their own inner musical madness together. They will continue to play in their other incarnations, including Mascara's appearances with Ad Frank & the Fast Easy Women, where he plays keys alongside Rabdau.
Will one day the three play a show bringing together the extended family of artists intertwined into one pulsating, sensuous, and ripping glory? Only time will tell.