Medford Transcript, April 20, 2006
Under his 'Spell'  By Joe Viglione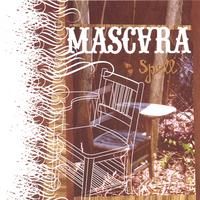 Medford recording artist Chris Mascara has come up with an intriguing and innovative six-track, five-song CD, "Spell," on Mr. Fibuli's Records. It's a smart and highly polished sophomore disc from the singer who played the lead role in a 2000 production of "Jesus Christ Superstar" opposite another former Medford resident, Extreme's Gary Cherone (as Judas).

The music on "Spell" leans toward the dark side, the semi-autobiographical "Percy's Revenge" an easy fit inside the repertoire of, say, Marilyn Manson. Think early Alice Cooper circa the "Love It To Death" and "Ballad Of Dwight Frye" phase.

Born in Long Island, N.Y, Mascara grew up in South Florida and "came up to the Boston, specifically Medford/Somerville, to go to Tufts University" in the 1980s. He met his wife, Deb, at Tufts in the early 2000s.

"We have made the neighborhood around Tufts our home ever since, buying an adorable updated 1920's bungalow in Medford Hillside," he said.

Mascara and his wife appeared on the Food Network show "The Secret Life of...Pastries" when they filmed a sequence at the newly opened Danish Pastry House, located at 330 Boston Ave.

"I like Medford because its neighborhood-feel is reminiscent of the Long Island area where my extended family lives," Mascara said. "In fact, we've been 'adopted' by our 88-year-old Sicilian neighbor, Frank Amato. We share family recipes and dishes, go food shopping together and discuss gardening tips. I even helped him trim back his grape vines."

But do the neighbors know the singer's music was dubbed "Sinister Pop" by students who write for the Tufts Daily?

The current members of Mascara's group come from other parts of New England to play in the band. Chris Girard, the bassist, lives in Manchester, N.H. with his wife and family. Rikki Bates, the drummer, hails from Cape Cod and the group rehearses together in Woburn.

Musical loves

Mascara discovered his love for music very early.

"I learned how to play a Bach piece on the organ entirely by ear when I was 8 years old, having never learned a note of music previously," he said. "Music was always part of family life, but not until this discovery of my innate ability did I receive formal classical music training on the organ. By my early teens, I was a professional substitute organist, playing church services, weddings, etc., and also, on the radio. I have press dating back to the late '70s chronicling my early artistic accomplishments."

Fast-forward to his years in the Boston area.

"After transitioning from classical organ as my primary vehicle to rock guitar in my late teens, I was in a Tufts psyche band, The Void before I came into my own as a lead singer/songwriter," Mascara said. "A harbinger of things to come, my real introduction to
Boston's music fans was when I played the sitar on the George Harrison song 'Within You Without You' in Boston Rock Opera's "SGT. PEPPER'S..." productions in '95 & '96."

Listeners can hear those Beatles influences in "Time Is A Lie," the third track on "Spell," a short CD that is well paced and gathering a good amount of local area press.

The singer/songwriter is industrious, to say the least.

"After reconstituting the Mascara trio and allowing the new line-up to gel, in 2003 I designed an eclectic variety show entitled Scara's Night Out and showcased it at the Lizard Lounge in Cambridge," Mascara said. " It's a sell-out bi-weekly series and included local rock stalwarts, Celtic dulcimer performances, Portuguese/English hip-hop, burlesque dancers, Charlie Chaplin-esque skits, acoustic and multimedia comedy, reproduced old-time radio acts, poetry, belly dancing, electrified spoken-word blues; and even drew The Wu Tang Clan out of hiding and into the audience for the theatrical madness.

"In addition, I always continue to immerse myself in various musical endeavors: performing ragas and original compositions with my wife Deb in our project Sitar Tabla Power, creating new material for MASCARA, singing in a Sinatra lounge combo at cabaret nights and Mardi Gras/Bastille Day Balls as well as contributing lead vocals to a Paula Kelley song and to a track on the non-profit Project: Think Different compilation album," he continued. 

Three of the tunes on "Spell" come in under three minutes, the driving "No Afterlife," like the rest of the album, recorded at the Indecent Music studio in Medford, owned by engineer Hendrik David Gideonse.

"My creative process involves three alternate guitar tunings besides standard tuning that help give my songs a distinctive flavor," Mascara said. "My early years as a child prodigy on the classical organ continue to inform or torque my rock compositional instincts. Another important factor is my bandmates' ability to 'rock' my expansive, sometime angular tunes, that in turn shapes the songs I bring to them.
"They match my headiness and bring the muscle and urgency that the music craves," he added. "This line-up has proven to be more edgy, raw, concise, and intuitive when it comes to interpreting my songs."

The new band is already working on a new full-length CD and plan to tour in 2006. They also plan to license the music out to movies and TV.

"I think, for instance, that the folks that produce the program, 'Charmed' would just love Mascara 'Spell,' especially since the show is about three modern-day witches, one of whom owns a fictional rock club," Mascara said with a laugh. "Somebody get my agent on the phone!"