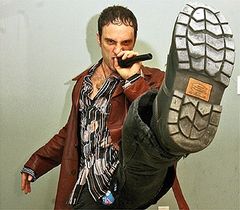 By David Wildman  / Music
Wednesday, December 12, 2007
Chris Mascara was once best known locally for playing the Son of God in "Jesus Christ Superstar." Now, thanks to Cambridge-based video-game developer Harmonix, millions the world over are enjoying his portrayal of another cultural icon: the lead singer in the "Rock Band" video game.
Mascara, along with another local rocker, guitarist Bryn Bennett of the band Bang Camaro, auditioned for the chance to do "motion capture" work for the groundbreaking game. They were flown to the gymnasium-sized New York soundstage of Curious Pictures, wore spandex suits covered with marble-sized silver balls and ran through every rock move known to man in front of an audience of motion-capture cameras. "It was really fascinating," said Mascara, 39. "They would play music at a certain tempo and ask me to do any of three gradations of stage energy, either standing still or ambulatory. And we would do this to three different styles of music. It was a lot of fun, but it was a marathon."
A longtime fixture on the local rock scene, Mascara was urged to try out for the role by fellow "Superstar" alum Peter Moore, who has done work for Harmonix and sings with both Count Zero and Blue Man Group. The game developers were looking for performers to portray styles from punk to heavy metal. Mascara was able to ace them all.
"At our auditions, Chris had a grab bag of props," said Ryan Lesser, Harmonix art director. "As we ripped through all of the tryout songs (by Metallica, AC/DC, Queen, Bowie), he would take 10 seconds to do a quick outfit change and come back as a totally different persona. It was pretty impressive."
Bang Camaro's Bennett, a Harmonix employee whose band's music is featured in the video game, auditioned to play one of the guitarist characters. He was decidedly a little less comfortable in the situation than Mascara.
"It's two guys in a room playing AC/DC and they're saying, 'Head-bang more! Do this! Do that!,' " said Bennett. "I never get stage fright, but that was terrifying."
But Bennett enjoyed himself at the shoot, dancing around with a cheap guitar and gamely trying to move like Angus Young when called upon. But ultimately, he said it felt "horribly un-rock 'n' roll."
For Mascara, the chance to strut his stuff for an audience of thousands - and eventually millions - of gamers, was nothing less than a dream come true.
"Maybe I've spent too much of my adolescence practicing my moves in front of a mirror," he said, "but for me it was a treat being able to use my performance skills that I've honed since I was a kid - and get paid as a professional for it. This is the most rad thing I could hope to do, short of striking a chord with my own music."