THE NOISE Magazine Boston, MA, December 2005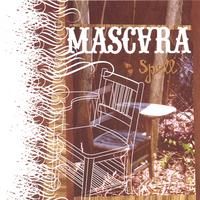 MASCARA
Mr Fibulis Records
Spell
6 Songs
Chris Mascara is one of Boston's most talented songwriters, and on Spell he seems to engage in what one critic has called "genre clowning." Elvis's Sun sessions; XTC's first two albums; The Turtles, The Beatles, and The Minutemen: all indulged. Some genre spoofery is minimalist; Mascara's is baroque: here, production values reinforce the element of play. The approach works best on the newer songs: on the spooky, lovely, and almost McCartneyesque elegiac "Time Is a Lie," and on the soaring lyric pronunciato "Great Divide." "No Afterlife," perhaps Mascara's best song, has, by contrast, been made less a performer's showcase than an ensemble effort, and I think this variant version suffers in the translation. The outrageously arpeggiated guitar runs and synthesized keyboard horn sections strike me as a foolish attempt at sweetening a rather brave and uncompromising message. However, the dense production on "Percy's Revenge" renders the otherwise jarring and angular composition not only listenable but entertaining. In some respects Spell is a fallback; in others, a brave new direction. Yet the four songs named are compelling simply as straightforward explorations of the writer's labyrinthine emotions, for few artists are better at translating complexity of feeling into music expression.
(Francis DiMenno) *****
>>>DUAL REVIEW<<<
MASCARA Spell

After what seems like an eternity since their last release, Mascara comes out kicking and screaming with a rocking new release that covers more musical ground in the first ten minutes than most Boston bands cover in their entire career.  Always theatrical and flamboyant, only Mascara can do a heavy rock tune followed by a campy romp and then head into heady psychedelic territory while still maintaining a unique identity.  Chris Mascara does some interesting vocal acrobatics throughout this recording evoking the spirits Lennon, Mercury, and Buckley.  Having seen this lineup perform a few times, I must say this is probably the most concise line-up Mascara has had, which includes Chris Gerard on bass and Rikki Bates on drums.  Sadly, this album is way too short.  I hope we'll get to hear more soon. 
(Joel Simches) *****